Physician Reimbursement for AFib Ablation Down 30%
Where Does AFib Ablation Go From Here?

On November 1, 2022, the Centers for Medicare & Medicaid Services (CMS) published its new physician payment final rule, and while hospital reimbursement continues to increase moderately, physician reimbursement for EP ablation (CPT codes 93656) was reduced considerably for 2023 and 2024. Heart Rhythm Society has pushed aggressively fought against this, met with several lawmakers, and submitted a "potentially misvalued" letter to CMS regarding CPT code 93655. These efforts helped some of the CPT codes in the package, but physician reimbursement for some of the most frequent, most expensive, and fastest growing EP procedures has still come down by more than 30% in the period 2021-2023.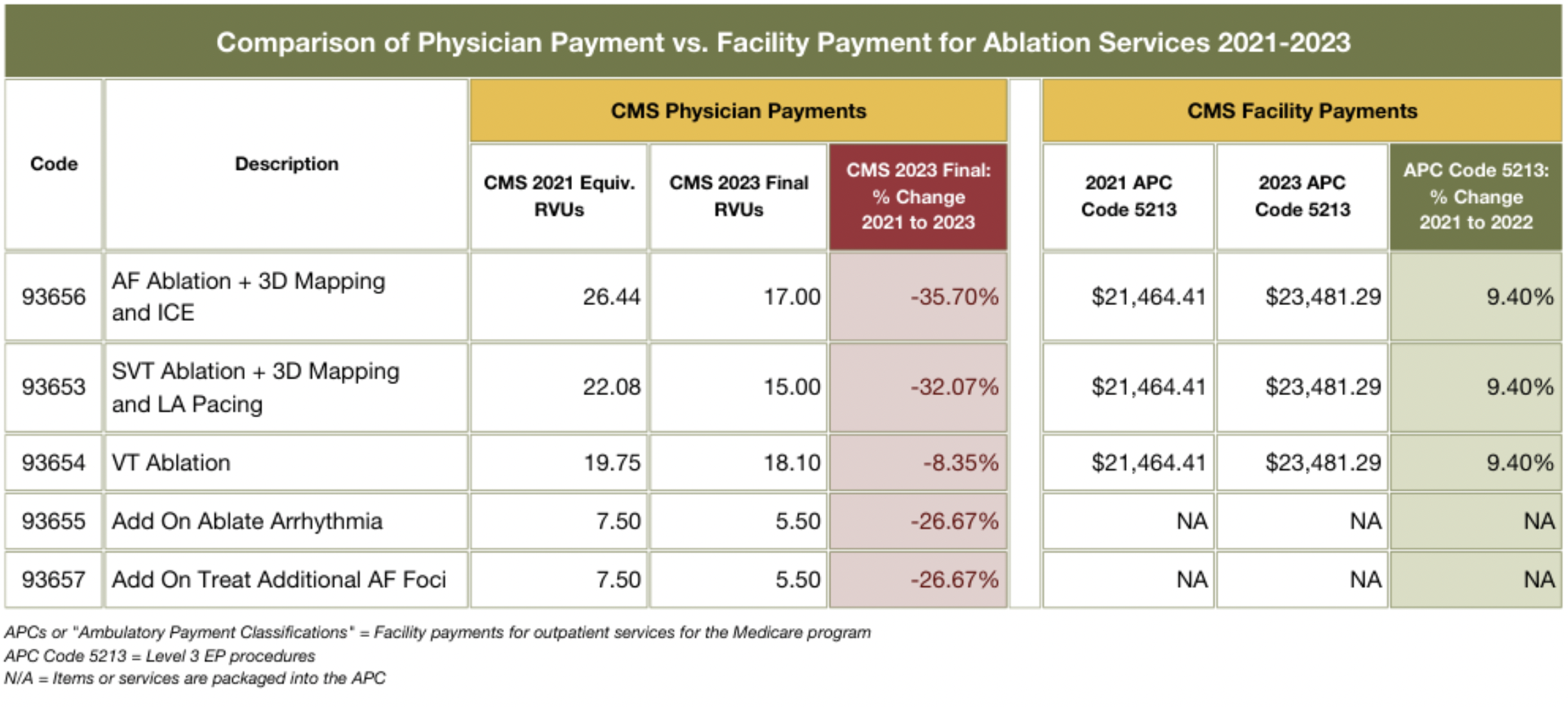 Source: HRS website: https://www.hrsonline.org/latest-from-hrs/CMS23
When an Atral Fibrillation (AFib) procedure is conducted in a hospital on a Medicare/Medicaid patient, the hospital receives reimbursement from CMS based on the Current Procedural Terminology (CPT) code, typically 93656 for procedures that involve both diagnosis and ablation. In 2023, this was increased to $23,481.29, up 9.4% since 2021. In the same period, physician reimbursement for CPT code 93656 was reduced by 35.70%.
This means that in electrophysiology labs with a majority of CMS-reimbursed patients, physicians will see their payment for AFib ablation procedures cut by a third over a two-year period. While hospital reimbursement is going up, the 9.4% increase over two years likely doesn't even cover the annual price increases from medical device manufacturers on devices that are used in AFib ablation procedures.
...in electrophysiology labs with a majority of CMS-reimbursed patients, physicians will see their payment for AFib ablation procedures cut by a third over a two-year period.
Now, if AFib ablation procedures were a small number of procedures in the average electrophysiology lab, this wouldn't be a big problem. But the fact is that to most hospitals with EP labs, AFib procedures used to be a highly profitable procedure area – even an area that could offset less profitable (or losing) areas such as the ER. This is important, because it means that negative pricing in electrophysiology ultimately has consequences beyond the doors of that specific department.
A critical question is what is going to happen with AFib procedures in such a pricing environment? In the long term, fewer physicians are going to do their internships in electrophysiology and turn to more lucrative areas. This might be manageable in other procedure areas, where remaining specialists could simply take on more work, but AFib ablation procedures are among the fastest growing procedures in healthcare (see illustration below from HRS), a procedure growth that simply cannot be absorbed by the existing population of electrophysiologists. Continued success of electrophysiology depends on the specialization attracting MORE physicians not less, and the area will suffer gravely when specialists start leaving the it.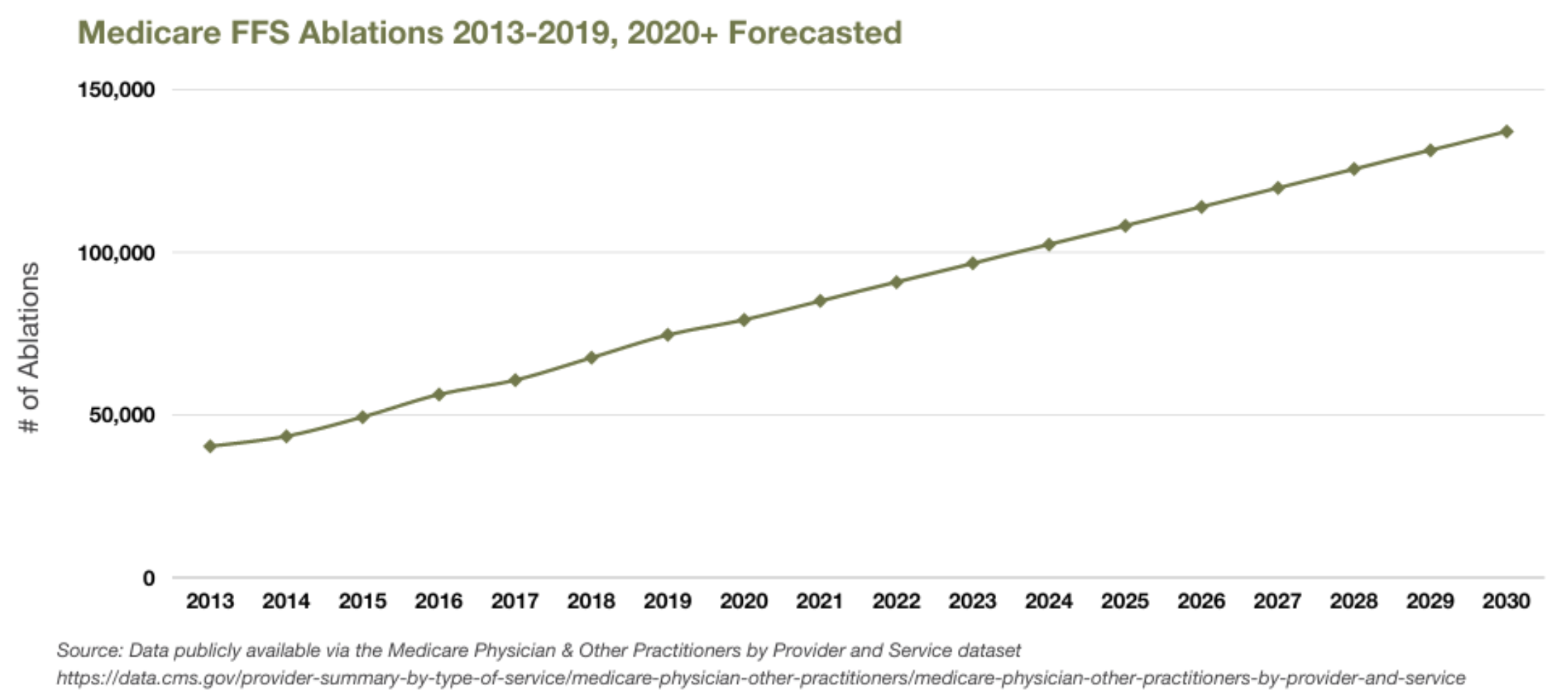 Source: HRS website: https://www.hrsonline.org/latest-from-hrs/CMS23
Here is what I think will happen as a consequence of CMS' new pricing schedule:
Fewer patients with AFib will be treated and especially those on Medicare/Medicaid will remain on drug regiments, which often have a massive consequence on quality of life

There will be fewer doctors practicing electrophysiology – those who remain in the specialty will make themselves available for other electrophysiology procedures that have less demand and are less important to patients

The best and brightest doctors will be the first to leave (or not enter) the field, because these are also the doctors that can easily access other specialties. As a consequence, the quality of AFib treatment – already an area with many unsuccessful procedures - will go down drastically

Hospitals will prioritize other procedures with more access to doctors, abandoning the large – and growing - population of AFib patients who would otherwise have received (in many cases) curative treatment

As procedure volume goes down, original device manufacturers will focus less on innovation – the manufacturers' profit hunger, which has resulted in significant annual price increases that put pressure on the electrophysiology procedures bottom line, will literally bleed the field of electrophysiology technology to death

Hospitals will suffer from the loss of a highly profitable service line that has supported other, less profitable lines, and overall operating profit will go down, possibly resulting in more hospital closures.
If you think this is an overly pessimistic and somewhat exaggerate interpretation of the situation – ask a doctor. Or, even better, find an electrophysiology lab manager, and ask what they are experiencing. Options are running out to sustain the level of quality, innovation, and patient care this specialty has found pride in for a few decades. Increased re-use of medical devices used in AFib procedures (through single-use device reprocessing) can still alleviate some of the financial challenges in the field (maybe share the cost savings with the physicians to offset some of their loss in income?), but it likely won't be enough.
Of course, labs that serve primarily patients with private insurance will continue to thrive. But is that good enough? Great care for wealthy people, poor care (or no care) for poor people?